Build Your Dream
Working for you. For the Kingdom.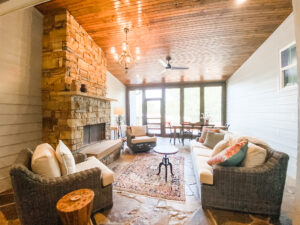 When it comes to your home, you're looking for a place to relax, to unwind, to breathe. You've got ideas and dreams and you deserve a place to make them happen.
That's where Kingdom Builders Construction comes in.
Whether it's a remodel, upgrade, or you're starting from scratch, we specialize in making your home dreams a reality.
We work with you to create gorgeous, custom finishes, show-stopping design, and most importantly, a place that you're proud to come home to. We specialize in custom home builds, kitchen remodels, bathroom upgrades, outdoor living design, and unusual, creative designs. Let us help you today.
Your dream home is right under your feet. It's just waiting for Kingdom Builders Construction.
Kingdom Builders Construction was birthed from a side project of DT Roofing, one of the most awarded roofing and construction companies in North Texas. We have more than a decade of experience in building quality homes and projects.
Ken/Kelly Forman
2023-02-07
Our experience with Kingdom Builders was a positive one. We had them build a bardominium and they worked with us so we could do all the finishing out after drywall. The communication was excellent and the work was done in a timely manner. We would use them again.
Kelly Rothenberger
2023-01-27
John and I have never worked with such a great company. Every crew was prompt, did expert work, and was respectful. Can't say enough good things about the entire job and great people. Highly recommend KBC for any project you are wanting done!
Working with Kingdom Builders and Tim Szumowski was excellent. They did a bedroom remodel project for us. Workmanship, timeliness, and communication was great.
Hayley Stewart
2022-12-09
We had/have the pleasure of working with Kingdom Builders for our backyard! They screened in our front porch and now we are in the process of building a pool house. So far, we are very happy with the quality of work and people this company has. Kenny is our salesman who is very professional, down to earth and easy to talk to. And Will is our Project Manager and does an incredible job communicating and also makes sure the job is polished. I never have to ask what's going on because we also have an app on our phones that show us who is coming by, what date and time and what exactly will be done. And if anything falls through, both Will and Kenny make sure to let us know what's going on. If you're contemplating calling them, just do it! Being in a small town, it's hard to find contractors that don't just take your money and run. With Kingdom Builders, you won't be disappointed! And the best part... they can pretty much do it all! From garage doors, home additions, remodeling to windows.. they will take care of you! So what are you waiting for?! Call them now!!! Hope this review was helpful! 😊
Kingdom Builders came to our rescue when our house was hit by a tornado. They worked with insurance and rebuilt our place better than before. Will, our project manager, was responsive and easy to work with everyday. The whole process was easy to navigate and by the time of completion, I felt as though Will was a friend more than a contractor. Thank you, Kingdom Builders, for going over and above to make this a great experience. Your work really does bring honor to the Lord and his Kingdom! -Jeremy and Misti White Lead Pastor, StoneWater Church
We are impressed with KINGDOM BUILDERS ! This company planned our project and carried through in a timely fashion . All factions of KINGDOM Builders work seamlessly together and know how the project is progressing . Through the entire project, Clay and Tim were available and answered their phones. KINGDOM Builders is professional and deals with every aspect of the project promptly. Every evening the site was completely cleaned .. We throughly enjoyed working with KINGDOM Builders and applaud their integrity! Thank you, Field McDonald Sharon Coan
Just had my garage doors refinished and I am extremely pleased with the results! The company got me on their schedule in a timely manner, and the project manager met with me in advance so we were both clear about expectations. The young man doing the work was most competent, extremely conscientious, and very careful. I appreciated the project manager coming on-site to check the quality of the product and the workmanship. Highly recommend. If I have another project, I know exactly who to call!! Glynes Foster Harbor Lakes
R. Irvin Saathoff
2022-10-04
Kingdom Builders built a 6.5' stone wall around the back of our property that turned out beautifully. Duane & Abel are the Best!
They stayed on top of the process every step of the way. The job site remained clean the whole time. We are very happy with the outcome and would recommend them and more then likely get a bid on our next project!
We are super excited about our new shed/workshop just completed by Kingdom Builders and DT Roofing. These laborers are very hard working, from the cement work, to framing, to siding, roofing and electrical, they did an excellent job while listening to what we wanted completed. We had a small problem with a broken window that was brand new, they fixed the issue right away and the project managers were here each day to check on progress and make sure everything was going well. They were able to squeeze our build in between big projects and it didn't take long at all. Give them a call for your next project.
News & Announcements
Everyone wants to know the answer to the big question: [...]
It's time to take that big step--owning a home. Maybe [...]
We are so honored to announce that for the [...]